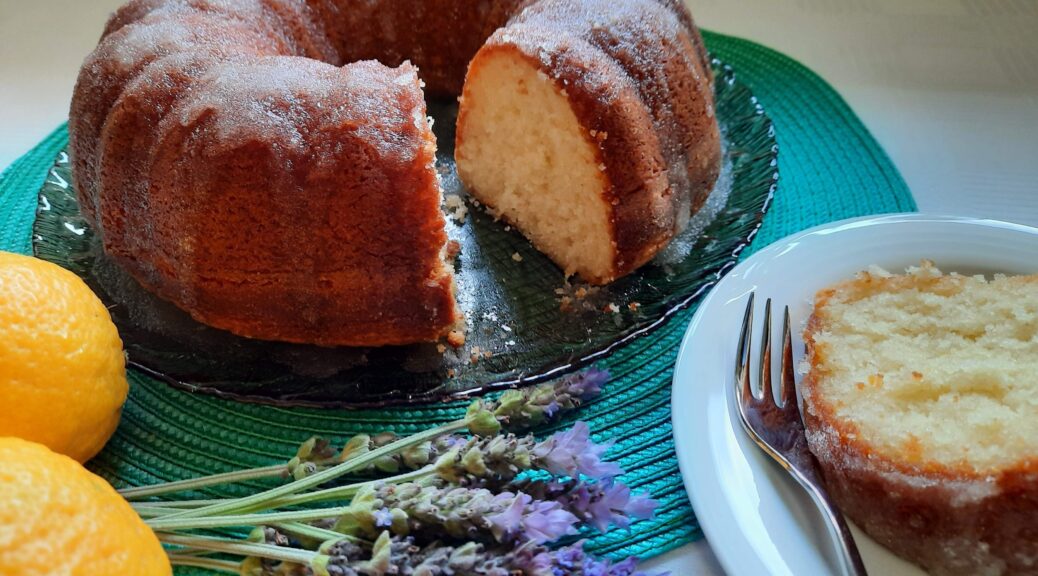 Lemon and Yogurt Cake
Lemon and Yogurt Cake
Winter in the Cape is lemon time. We are in the midst of citrus season in South Africa and lemons are plentiful at the moment. A Lemon and Yogurt Cake is a great way to enjoy this season's fruit. If you have a surplus of lemons and are looking for some inspiration as to what to do with them, read on.
My sister gave me this recipe a few years ago and now it is my favourite go-to for lemon cake. It is an uncomplicated recipe; quick and easy to prepare. The result is a light, moist cake with a subtle lemony flavour. The glaze adds an extra crunchy burst of lemon to each bite. An all round winner in my book.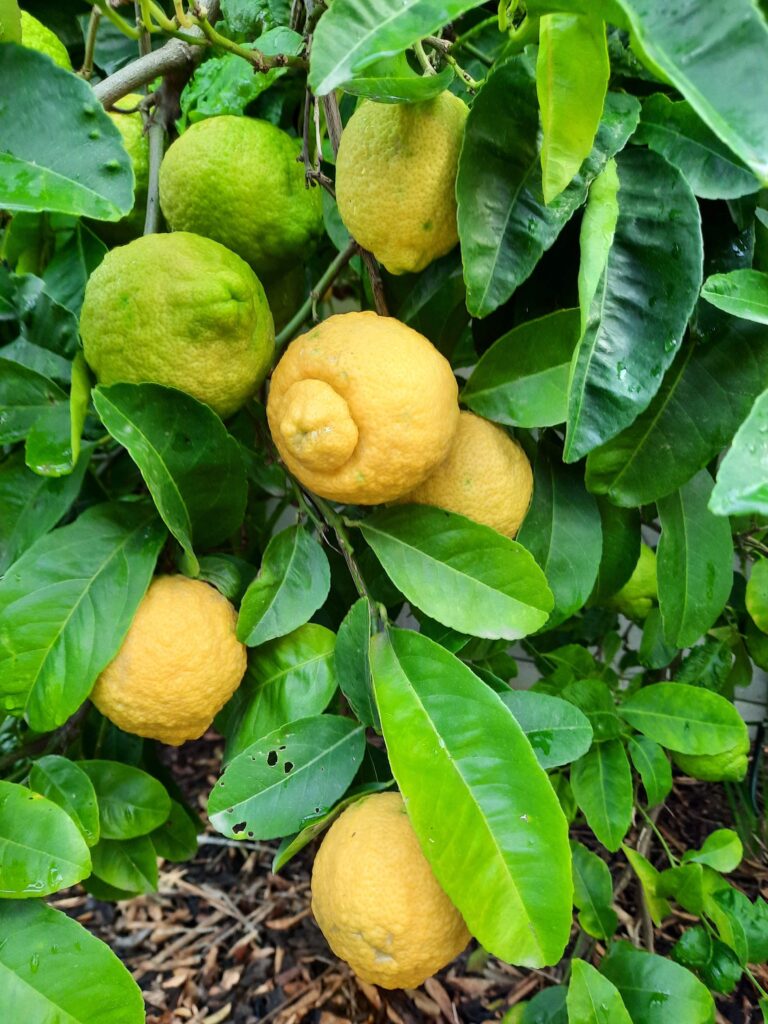 Lemon trees seem to be a popular choice when it comes to growing citrus in an urban garden. For instance, they grow well in pots and can therefore even be grown in gardens with limited space. Some varieties, like Eureka, can produce fruit throughout the year. However, it is usually in winter when the season peaks and there is an abundance of citrus fruit available.
A tree with a story
My lemon tree has an interesting history. It actually started out as an orange tree. It was a gift from a car hire company whose corporate colours were orange and blue. My little orange tree was no more than a few inches tall when I received it. This was way back in the early 2000s when I was still in the travel industry.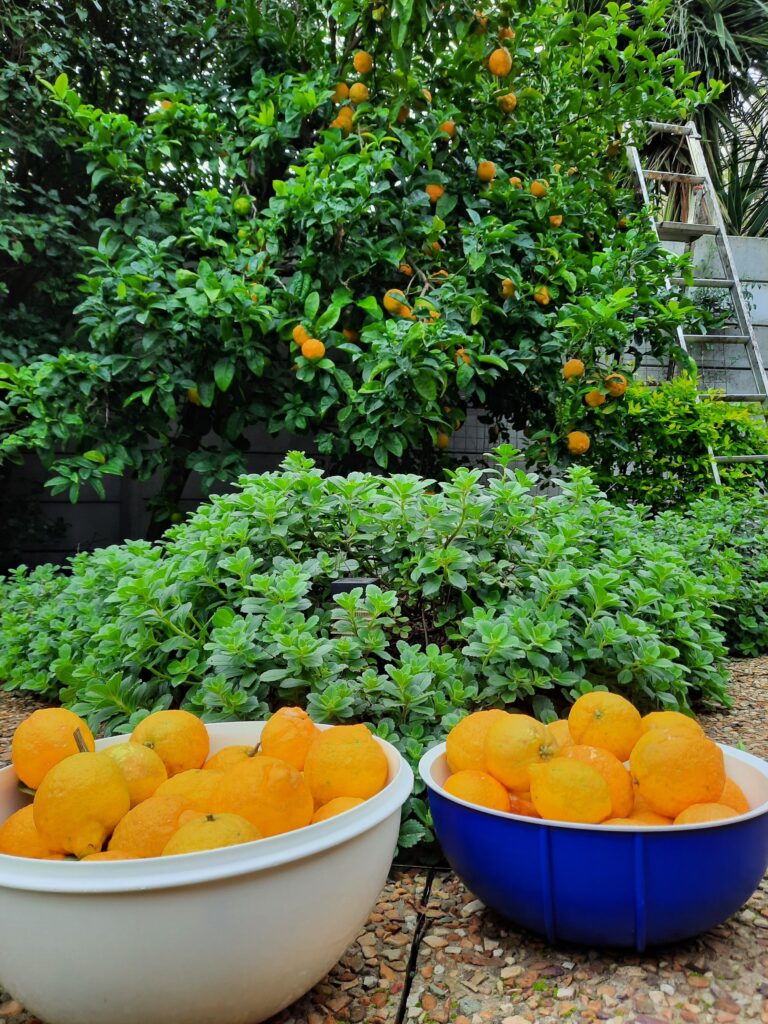 I decided to grow it as an ornamental lollipop tree. The little tree grew well and spent its first few years looking pretty and reaching about 1.5 m in height.
We rented the house out for a few years a while back and upon our return in 2012, the orange tree had transformed into a non-lollipop-looking lemon tree! The orange scion (the young shoot of the fruit tree you actually want) must have been grafted onto lemon rootstock. In other words, the rootstock had taken over.
Well, I'm not complaining – I have lemons! The harvests of the last two years have probably been the best the tree has provided. I like to think it is the tree's way thanking me for keeping it alive during the serious drought we had a couple of years ago. I had diligently watered it with left over filter coffee and veggie rinse water. In addition, it could of course also have something to do with the organic fertiliser I feed my tree on the odd occasion.
Now that you have met my lemon tree, let's get back to the lemon yogurt cake recipe.
Making the Lemon Yogurt Cake
Select two large or three medium sized lemons ensuring that at least one of them has an unblemished skin. The recipe requires lemon zest, so it is important to select a good quality lemon. If you don't grow your own and are using bought fruit, select wax free and organic if possible.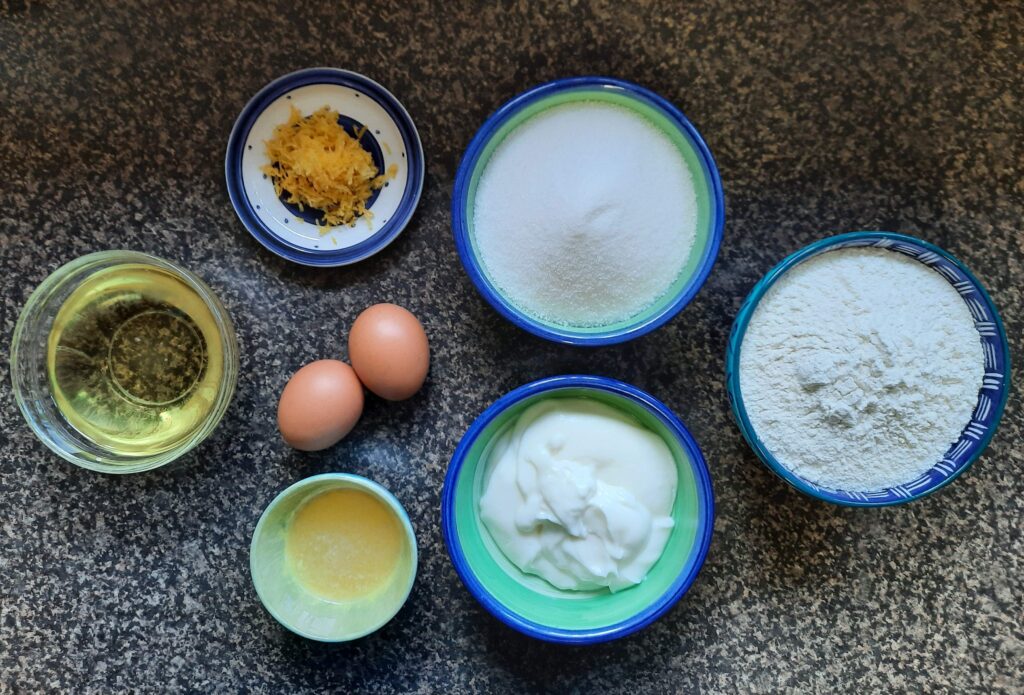 One of the reasons this cake is so moist is because it is made using yogurt. I'd say yogurt is a secret ingredient in baking that adds extra moisture and flavour. The acidity of the yogurt together with the baking powder ensures the cake rises well giving it a lovely light texture. In my experience double cream or Greek styled yogurt works well.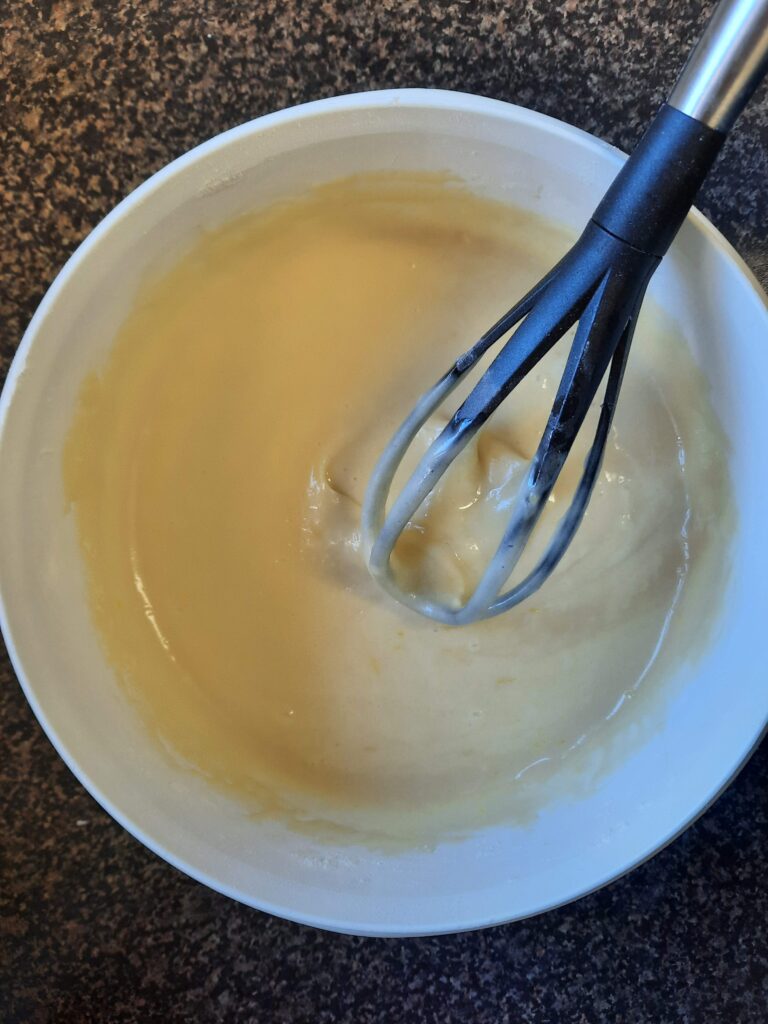 I find using a whisk is sufficient to blend the wet ingredients into a light and airy mixture before stirring in the dry ingredients. It gives one a really good arm workout too but of course you can always use an electric beater instead.
Preparing the glaze
The crunchy lemon glaze adds that extra zing to each bite and, according to hubby, makes the cake. I don't disagree. The glaze is super simple to make. All it takes is freshly squeezed lemon juice mixed with granulated sugar and, voila, it is ready.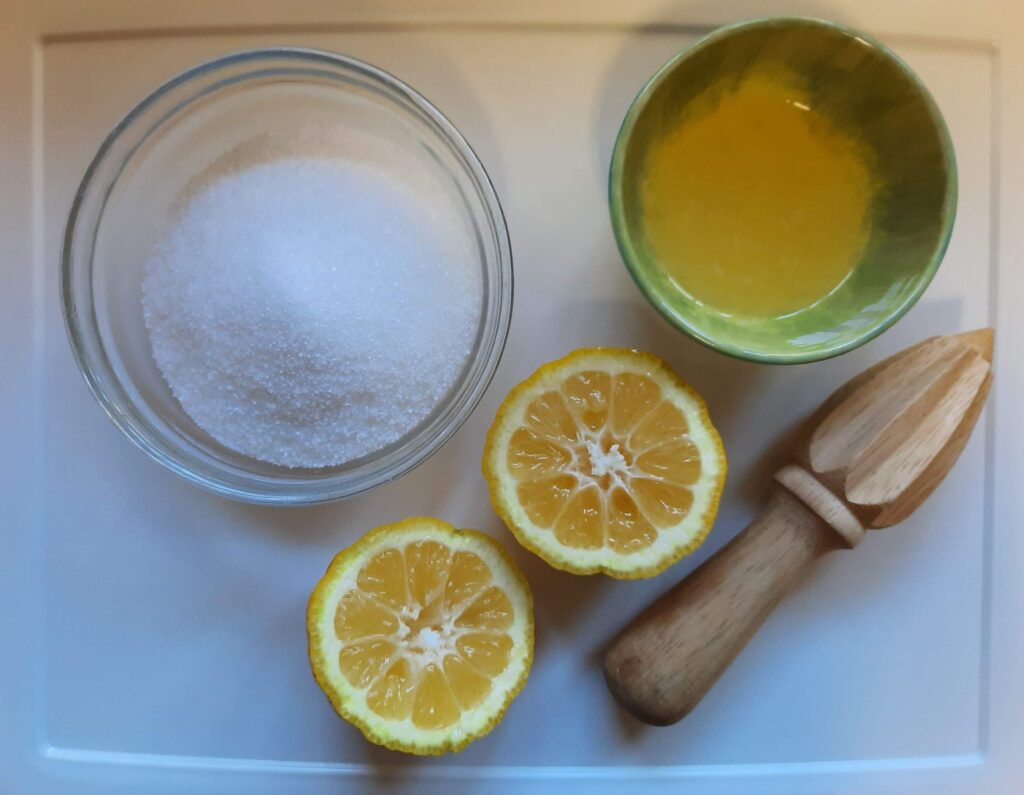 Once the cake is baked, turn it out onto a serving plate. Drizzle the glaze mixture over the cake while it is still warm so that the cake absorbs some of the syrupy deliciousness.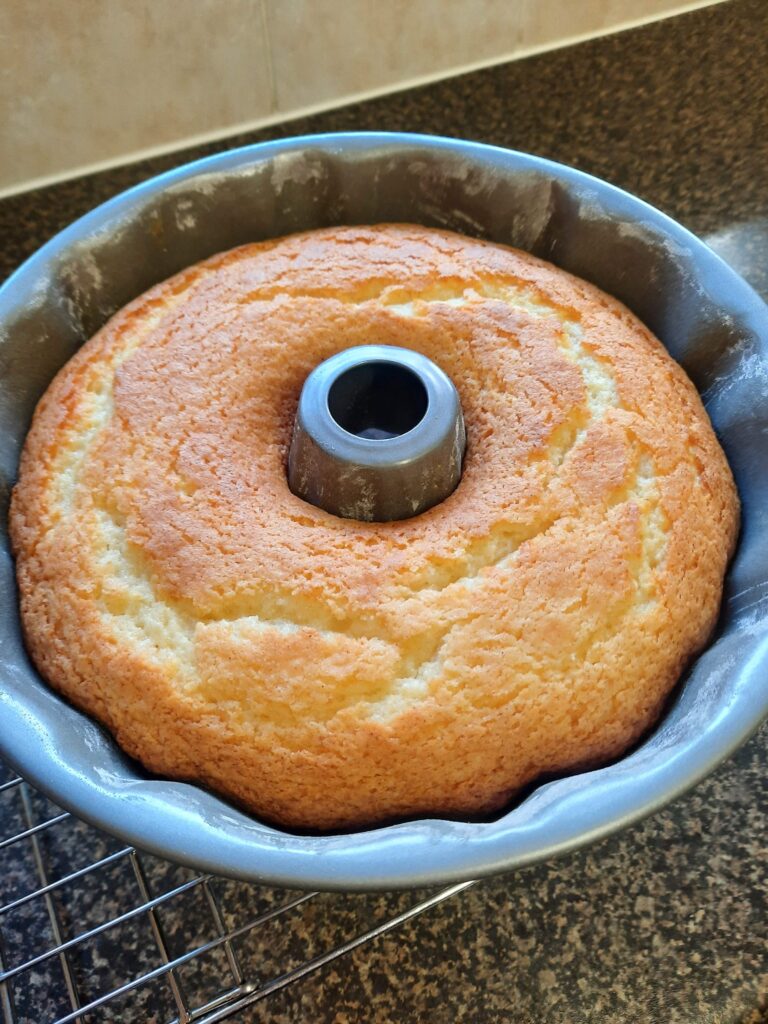 One can wait for the cake to cool down completely before eating it but, on the other hand, it tastes just as great slightly warm too.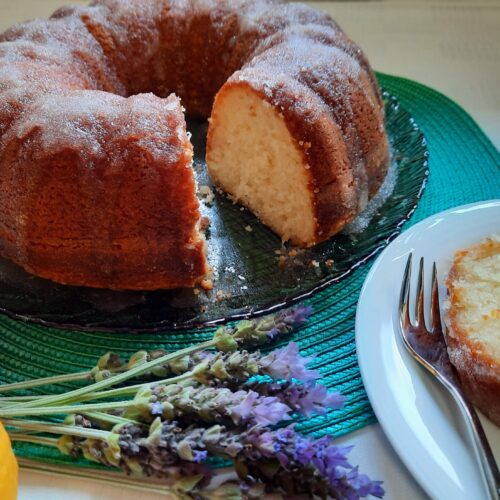 Lemon and Yogurt Cake
A moist, light, lemony cake which is quick to make and delicious to eat.
Ingredients
For the cake
250

ml

double cream yogurt

350

g

white sugar

30

ml

lemon juice

15

ml

lemon zest

180

ml

canola oil

(or sunflower oil)

2

eggs

extra large

500

ml

cake flour

20

ml

baking powder
For the crunchy lemon glaze
60

ml

Lemon juice

150

g

white sugar

(This can be reduced to 120 g if you don't want it as sweet)
Instructions
Preheat your oven to 180°C (350°F). Grease and flour a bundt cake tin. The extra step of flouring the tin helps in giving the cake an even golden crust as well as ensuring the cake releases from the tin.

Stir the sugar and lemon juice for the glaze together and set aside.

Whisk the yogurt, sugar, lemon juice, lemon zest, oil and eggs together until the mixture is smooth. This should take about 1 – 2 minutes.

Sift the flour and baking powder together. Add to the wet ingredients and combine well.

Pour the batter into the cake tin and bake for 35 – 40 minutes. Baking times do vary depending on altitude and air pressure. Check whether your cake is done by inserting a skewer after 35 minutes. If it comes out clean, the cake is ready. I find that I usually need the extra 5 minutes baking time.

Carefully remove the cake from the bundt tin while it is still hot. Place it on a plate and drizzle the sugar and lemon mixture over it. Enjoy!
If you still have lemons left after making this delicious lemon yogurt cake why not try my Quick and Easy Lemonade recipe.
Well, I'm going to put the kettle on and see if hubby has left me a slice of cake to enjoy with my tea.
Until next time, enjoy those lemons!