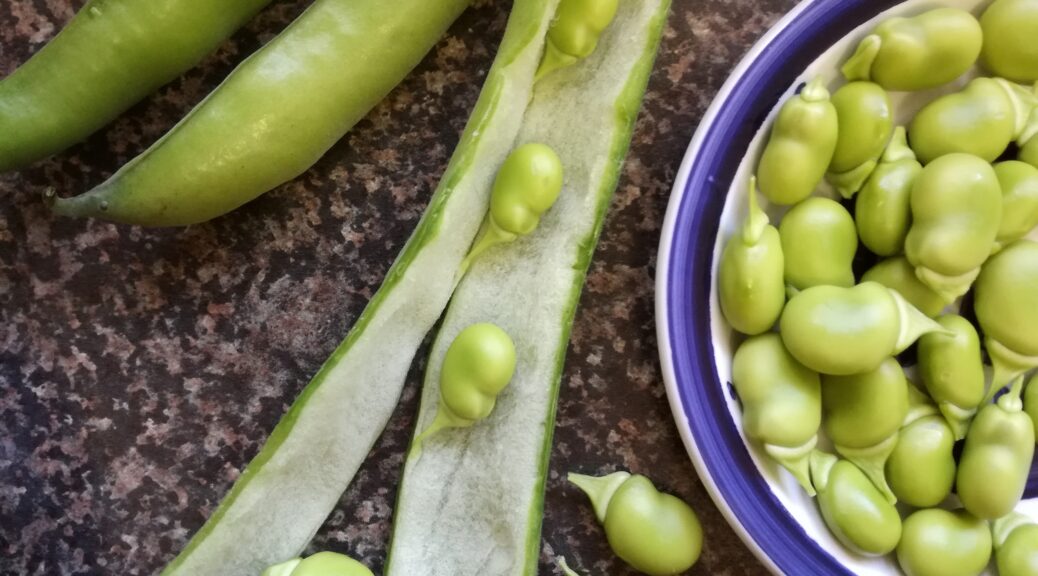 Delicious Broad Bean Dip Recipe from Homegrown Beans
Delicious Broad Bean Dip Recipe from Homegrown Beans
Harvesting something from the veggie garden is a very satisfying feeling. After weeks, or in some cases, months of nurturing the plants it is very exciting to be able to pick the crops and prepare a dish with them. Growing my own broad beans is no exception and today I'll share a delicious broad bean dip recipe with you.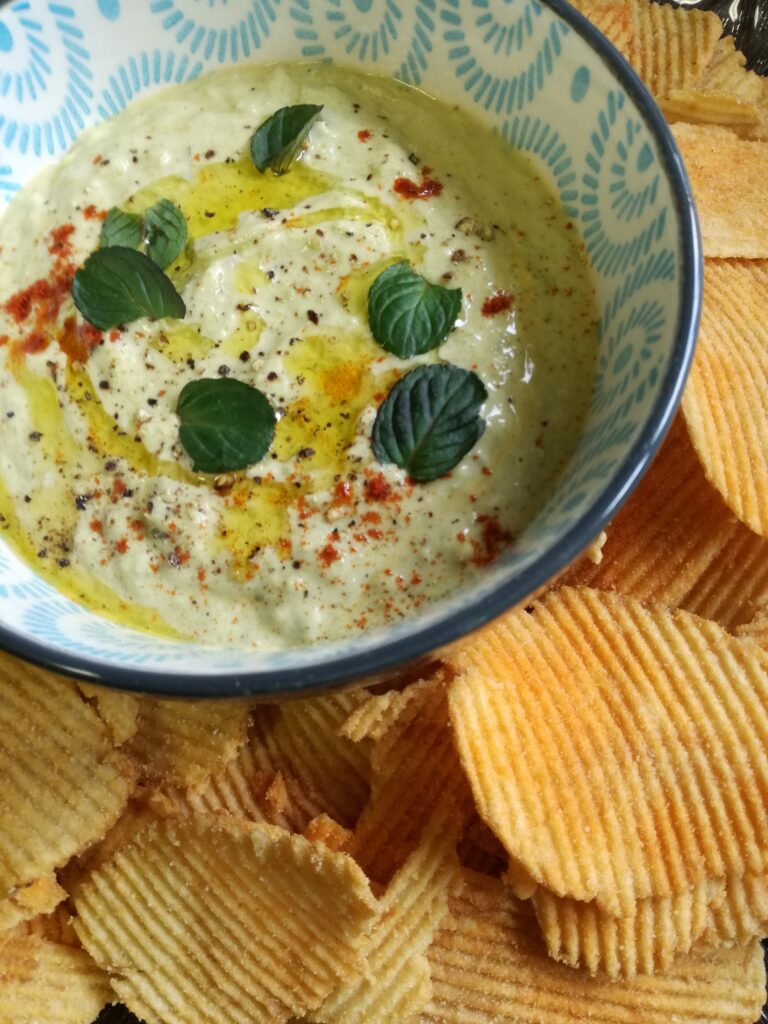 Broad beans have become a favourite winter veg in our home. Not only are they super easy to grow, but they have a lovely earthy flavour. They can be used in so many different dishes such as pastas, stews, soups and salads. I made a really tasty dip with them which can be enjoyed with chips, Bruschetta or a veg platter.
These are one of the winter veg packed with high quality plant protein making these legumes a popular choice for meat free diets. They also provide a good source of vitamins and minerals.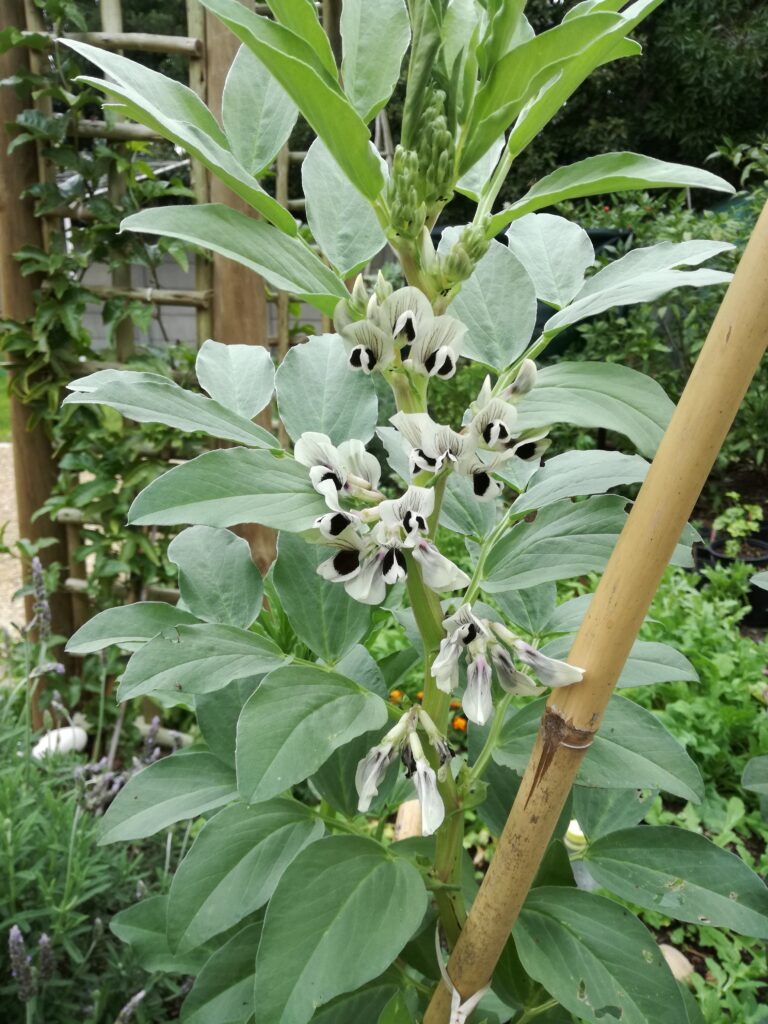 Growing Broad Beans
Broad beans, or fava beans as they are also known, are a very rewarding crop. They are relatively pest resistant although the snails in my garden do enjoy munching their leaves. Aphids could pose a threat to them, so I found planting nasturtiums as a trap plant helps. My beans have been fortunate to escape any aphid attack. You can read one of my previous articles for more about companion planting.
Planting in April / May means you'll be harvesting in August / September and possibly even into October. Broad beans enjoy growing in full sun. This can be a bit tricky in winter rainfall areas so they need to be planted in a position where they can enjoy the maximum winter sunshine.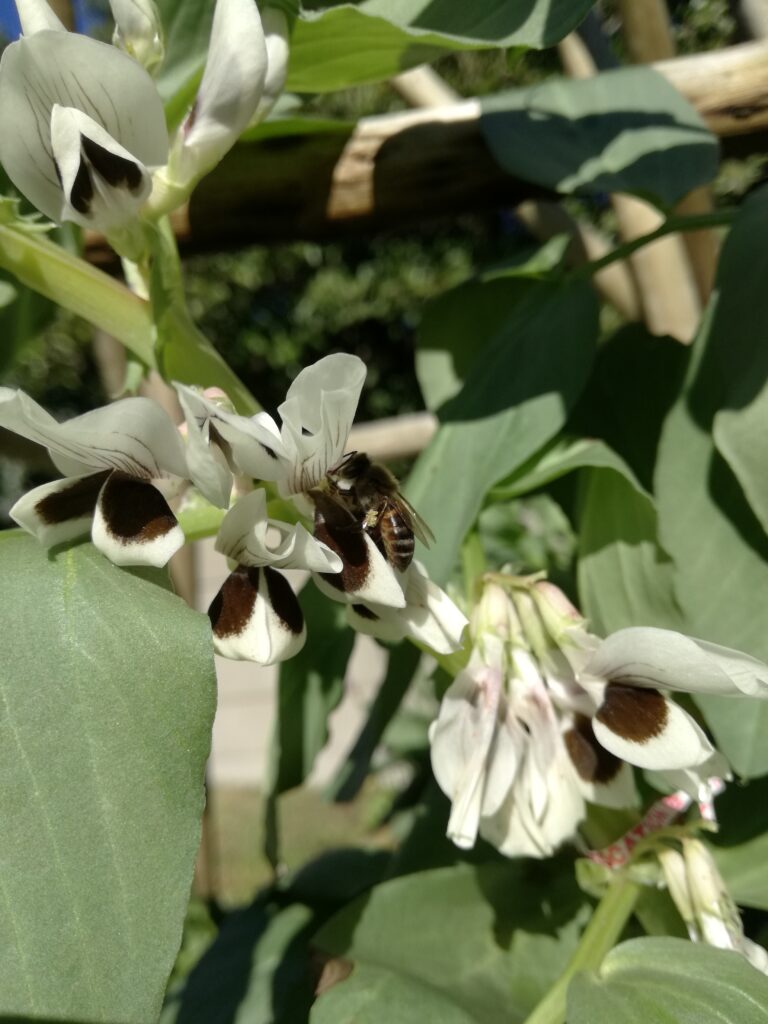 Broad beans are heavy feeders and usually like a lot of water too. I planted them in well composted soil and fed them regularly with organic plant food containing seaweed and chicken manure. Keeping them well watered is important especially while they are flowering and the baby beans are setting. If they dry out their yield may be affected meaning fewer beans. The plants will quickly let you know if they are thirsty by their drooping their leaves.
They need some support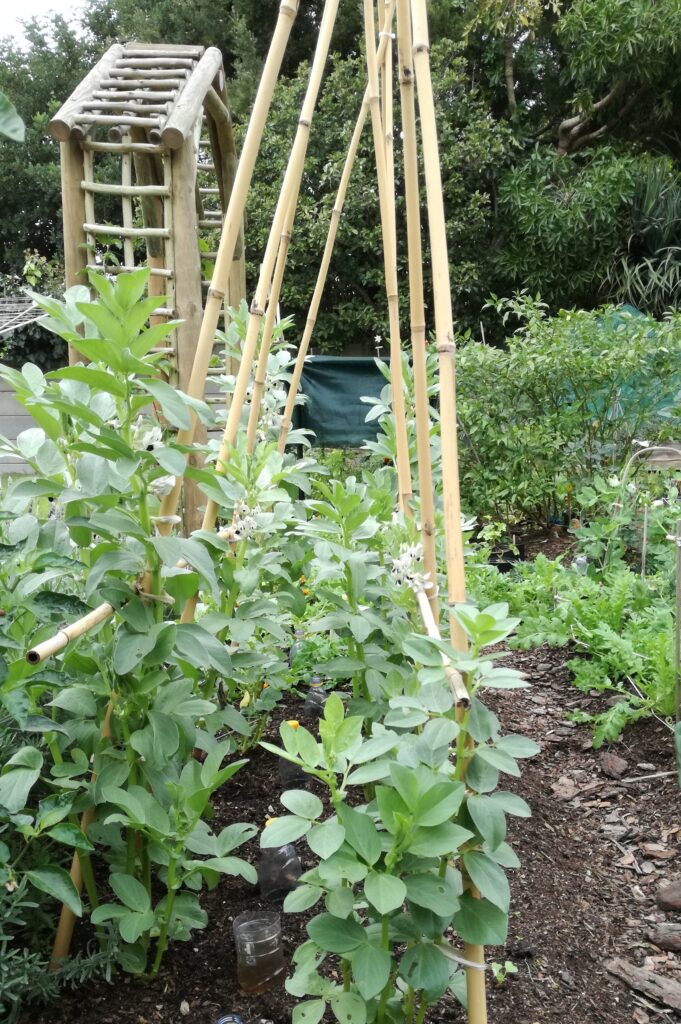 Broad beans grow upright to about 1 – 1.2 m and will require some support especially once the beans have set. I made bamboo teepees for my beans which help them stay up straight since they can get a bit top heavy from the weight of the beans. Supporting the plants will also help protect them from strong winds.
When to harvest
The beans are ready to harvest once the pods have filled out and you can feel the beans. They usually also start to hang pointing downwards. You can extend the harvest period by picking the beans as soon as they ripen. This allows the plant to direct its energy to the younger pods so you can have more beans.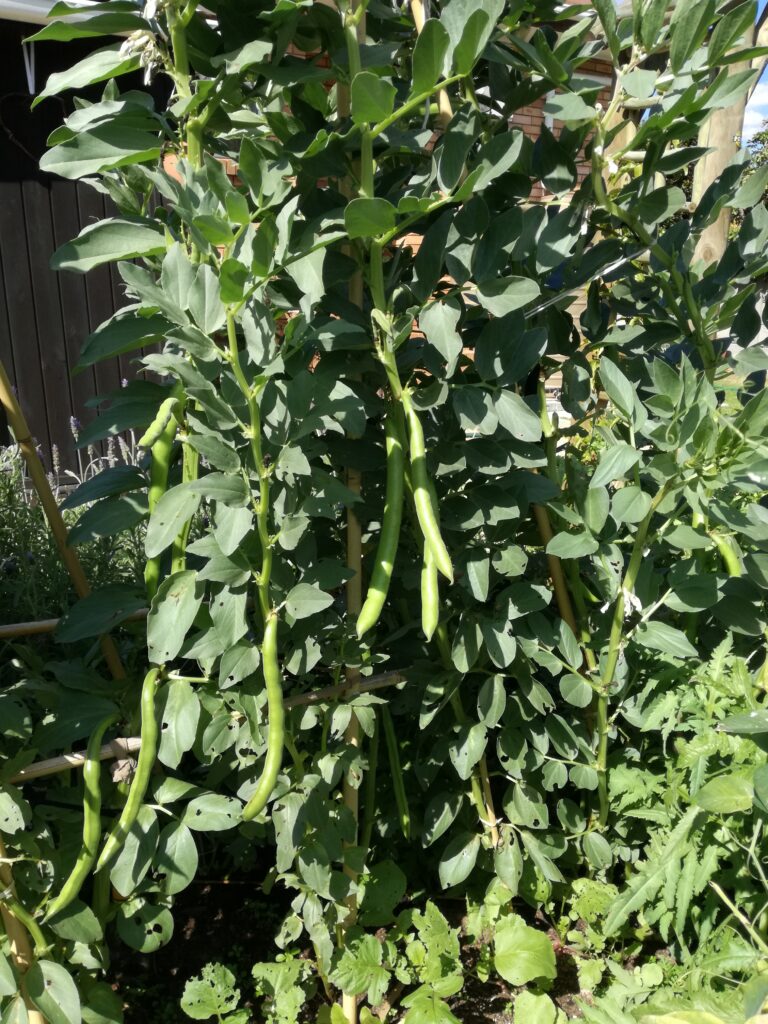 How to prepare the beans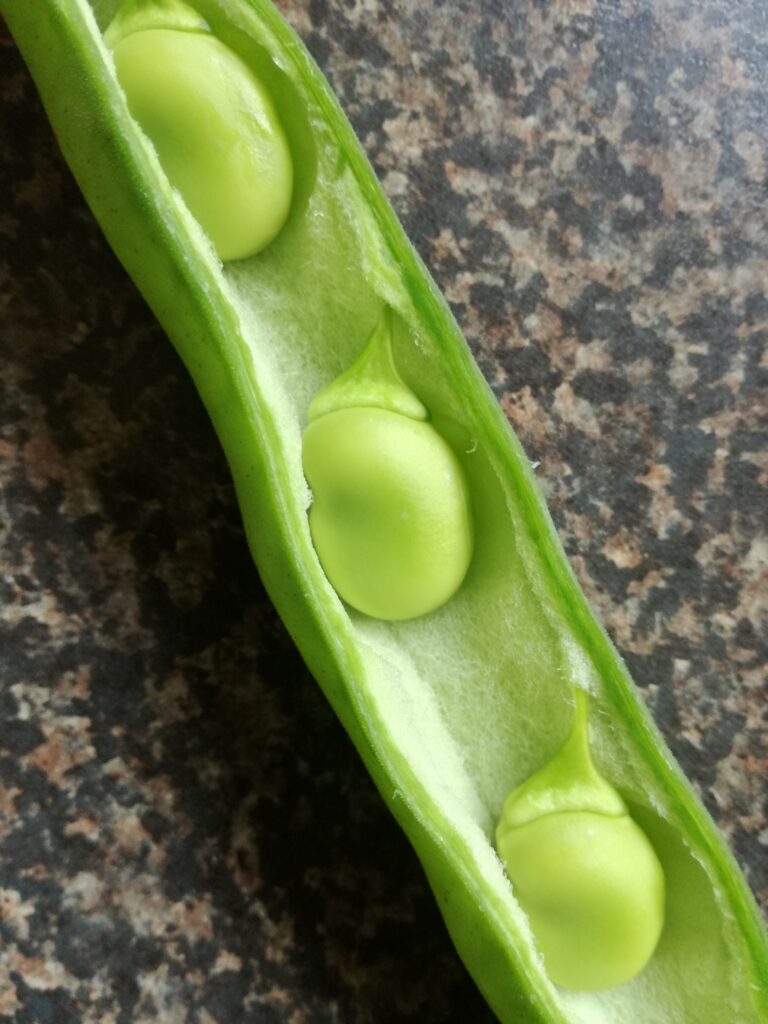 The beans need to be removed from their long pods. Just out of interest the longest pod I've picked measured a whopping 38.5 cm and gave me eight beans. The number of beans varies from three to eight with the average being about five per pod. It is quite easy to remove them from their little spongy 'sleeping bag' and shouldn't take too long to shell the amount needed for the dip.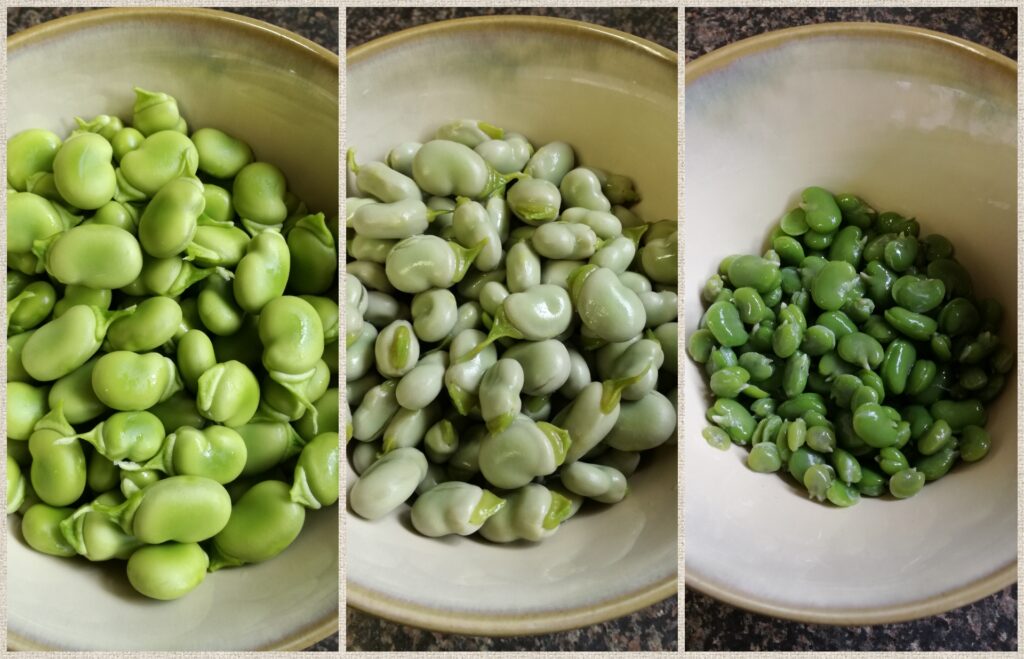 After boiling them in salty water for 2 – 3 minutes the outer skins can be removed by making a small incision and slipping the beans out. The more mature the beans are, the thicker their outer skin becomes. So depending on the recipe you are making, you can either remove these skins or leave them as is. Since the dip is prepared in food processor I would actually leave the outer skins intact. This also helps save preparation time. Removing them will mean that just about half the weight will be discarded.
Making the dip
I used double cream yogurt and cream cheese for my broad bean dip recipe which gives the it a lovely richness. For those who prefer a dip with fewer calories just switch these with the low or medium fat versions.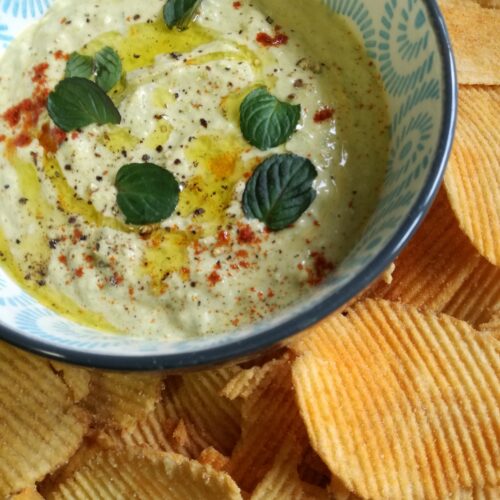 Delicious Broad Bean Dip
Served as an hors d'oeuvre or a snack this delicious broad bean dip is quick and easy to make.
Ingredients
½

kg

Broad Beans

(This is about 125 g once shelled)

2

Cloves of Garlic

1

tbsp

Olive Oil

plus a bit to drizzle over afterwards

2

tbsp

Lemon Juice

3

tbsp

Cream Cheese

½

cup

Double Cream Yogurt

1

tsp

Salt

2

tsp

Paprika

Mint Leaves

(Keep a few for a garnish)

Freshly Ground Black Pepper
Instructions
Boil the shelled beans in salty water for 2 to 3 minutes until tender.

Remove the outer skins by making a small incision and slipping the bean out. This step is optional for making the dip.

Place all the ingredients in a food processor and blitz until everything is chopped up and has a smooth consistency. Adjust the seasoning to your taste.

Pour into a serving bowl and garnish with a drizzle of olive oil, a sprinkling of paprika and a few of the mint leaves.

Serve with chips (crisps), Bruschetta or a fresh veg platter.
So if you have broad beans growing, you too can make a delicious dip and impress your family and friends.
Until next time, happy gardening.